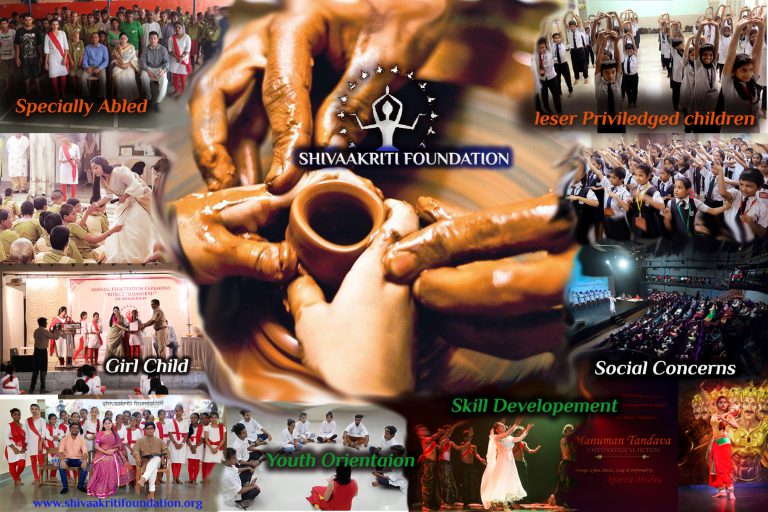 Shivaakriti foundation is an NGO established by Smt. Aparna Mishra with a strong vision and mission to garner attention towards various societal and environmental issues. It aims to use art and culture as the main creative voice to enlighten, educate and raise awareness about these issues among the lesser privileged sections of the society.
Shivaakriti Foundation has made a deep impact in the lives of much lesser privileged and specially-abled youth. Based on the subject of concern, the theme of activities, workshops, and cultural events organized by the NGO can be subdivided into four main verticals-
Social
Environmental Issues
Mental and Emotional Health
Indian Art and Culture
Shivaakriti Foundation organizes a myriad of stage performances, workshops, and other awareness campaigns every year to promote ideas and start discussions that really matter. Through these events, various social issues and unhealthy social practices are questioned. Topics vary from gender inequality to social taboos related to men. It aims to inculcate a sense of responsibility among people towards the wellbeing of their society and promote a conscious and aware living habit.
Shivaakriti Foundations stresses profoundly the need of building a strong and aware society that is empathetic towards the emotional wellbeing of fellow humans. A number of free consultation and counseling sessions are provided in order to execute this idea into practice. It aims to spread awareness and facilitate mental and emotional health among the lesser privileged youth, children, and women, where the need for it is not even acknowledged by the majority of society.
Environmental issues are addressed and the idea of sustainable living is heavily promoted in the campaigns organized by Shivaakriti Foundation. It aims to educate the people regarding the scarcity of non-renewable natural resources and also to instill a sense of accountability towards their immediate natural
environment. Water conservation, usage of eco-friendly products, etc are highlighted.
In maximum projects undertaken by Shivaakriti Foundations, Performing Arts remain the central tool through which all the ideas and values are communicated. The campaigns are designed in that way to glorify Indian Art and Culture and to keep promoting it actively. It aims to carry on the rich heritage of classical dance form and make it accessible to the poor children and women. It aims to popularize Art and Dance as a tool of self-expression and healing, to become a more confident and fulfilled self.
What looks like an extensive portfolio of remarkable social works and services, had a very simple beginning. Smt.Aparna Mishra began her journey during her early teens, in the backyard of her house. A visionary and a philanthropist from the start, she was always driven and inclined towards doing something for the people who were less privileged.
She started to train the children of the house-helps and also to the children living in the outhouse. What started as a tender act of kindness soon became a part of many heartfelt stories. Many children, who came to the training, didn't have prior access to basic education because their parents could not afford it. But the initiative taken by Aparna helped them get their Primary Education through Indian Classical Dance and Music. Most of them learned to read and write while learning Music.
She expresses her utmost gratitude and feels fortunate to have been able to touch so many lives. More than anything, she acknowledges the big difference it made to her life and the person she was becoming. Soon, more and more children started to come to the training and to support their expenses; Aparna laid the foundations of "Kala Sadhna Dance Academy", which is now a nationally acclaimed and reputed cultural establishment.
Today, it is known as "Kala Sadhna Indian Art and Wellness Center". It is rightly said that, "Necessity is the mother of all inventions". As recalled by her, it was the only way in her best capacity to continue supporting the training of the lesser privileged children around in her neighborhood. Till date, she is continuing
to use all the profits made from the center to support the training of the lesser privileged children.
For several decades, she relentlessly kept doing what she believed to be her mission. She continued giving her support and aid to the lesser privileged. It was her dream to help as many people as possible. But it remained unnamed until she decided to call it "Shivaakriti Foundations". It has been derived from the names of her two dear daughters, Shivanshi and Kritika. Her dream and vision finally got a name! Now, she strives to live her dreams and visions for society through Shivaakriti Foundations. Her aim is to make this world a better place for her growing daughters.
Shivaakriti Foundations has been providing Certified Formal Education, Scholarships and Workshops, Training, and has organized many events. By the grace of God, Aparna has been able to support a plethora of activities from her own profits and earnings. No money has been taken as donations to support any activities of the establishment.
We are very grateful to our members and partners who add so much value, excitement, and enthusiasm to this project by contributing with their time, efforts, and expertise. We humbly invite you to join us in our mission if you believe that our core altruistic values resonate with yours.
Trying to keep the youth rooted to Indian tradition & Customs through imparting academic training & degree courses in classical dance & music – under the "Guru Shiyshya parampara". In 2016-17 we have successfully trained 3000 students in Maharashtra. We plan to increase the number and cover other states in association with state government.
In association with Shivaakriti foundation, we run a unique program "Susanskrit – education through dance", to – Promote Classical dance music amongst the lesser privileged youth women & children Empower them with skill sets along with a degree (approved by Gov of India) for a nice career.Personality development and confidence building through Dance & music. Revitalisation of gov & NGO run schools – for lesser privileged with an idea to provide systematic training of Indian classical dance & music as part of education.
Driven by the concern for the women & her powers we introduced this project where we support these women by being a part of their dreams and help them make it come true with our humble effort's guidance and execution. Every woman of all social economic background, holds a secret dream in heart to be someone, to do something, to be somewhere. She does all the roles she's expected to do as a woman but still deep down, she lives those dreams, without consciously realising them.
We strongly believe, SHE is completely empowered in her existing equation, she doesn't need to fight for it. We take humble effort to engage such women to realise their dream side by side along with their various roles and duties of life. We engage remote Indian villagers to craft their talents – in forms of paintings, knitting, handicrafts, sculptures, pots, gift items & decorations which are all symbolic to Indian Rich culture , tradition & heritage , presenting the grandeur of rich Indian Plethora ! These products are displayed in exhibition's, and are available on our online store.
It was the first part of the tri series "Aparna Mishra's Kathak Trilogy" , which Premiered on June 19th, 2016 at the National Centre of Performing Arts , Mumbai It's a 90 min event blended with workshop, performance & audience participation. Social & gender-based taboos, science & quantum physics & mythological concepts were discussed through creative talk & Dance performances
Under this program, we conduct workshops related to various skills with a prime focus on personality development & confidence building. Through training & participation in dance, music, stage performance, event management , painting , creative productions , we try to expose the lesser privileged youth & children , realising their talent and exploring the world of various possibilities !
We try to groom the differently abled through Classical dance , music and art activities , identifying their special unique abilities. Specially designed courses by Aparna Mishra , are conducted to help them
Develop basic physical function and motor skills
Motivate, support and involve them in their strong areas
Group activities for their emotional & mental health
Bring confidence, awareness and self esteem
Make them felt needed, loved and equally important for the world through our activities and workshops.
As name goes , this act talks about various disabilities that we have – as a society & individuals, in our relations, emotions, mind & body ,We can easily address and react to the physical disabilities – a life time passes by and we never realise those disabilities which we can't see with physical eyes . We not quite affected by those abstract disabilities & never feel a need to address, react or rectify them. We tend to settle well with those disabilities and let them be a part of the incomplete you.
In the greed of wanting more , we have taken nature for granted , and have forgotten the powers nature have. If she can accommodate us to live on this planet, she can get destructive as well. This stage production (released in 2016 at the NCPA, Mumbai ) takes the audience to a journey of realisation of the powers that nature holds! We not quite affected by those abstract disabilities & never feel a need to address, react or rectify them. We tend to settle well with those disabilities and let them be a part of the incomplete you.
An educative & spell bounding stage production that showcases the strength of sub conscious mind, love & positive attitude to fighting against addictions! We not quite affected by those abstract disabilities & never feel a need to address, react or rectify them. We tend to settle well with those disabilities and let them be a part of the incomplete you.